Cobra Kai Season 4 - The Loop
Play Sound
W's Talk, Baby is the fifth episode of Season 7 of Letterkenny.
Synopsis
[
]
Tanis tries to get the Irish back together.
Cold Open
[
]
On the set of Crack an Ag, Wayne is wearying of the show. Glen begins to console Wayne, acknowledging he would rather be home toe-curling with his "little Annie Parillaud," but Katy reminds them it is showtime.
Wayne unenthusiastically opens the show, and the first caller is McMurray—who is outside the studio as it is an emergency. Katy lets him in, and he dashes to the set with "life-altering news," which Wayne hopes is "not too personal."
I, McMurray, have a five point one five-inch penis. — McMurray
He explains that for his entire life he thought he had had a 4.15" penis until he listened to Howard Stern and found he had been measuring incorrectly. Every year he would measure on Boxing Day, and pray at Midnight Mass on Christmas that he could give Mrs. McMurray "something extra." Dan murmurs about Catholics.
McMurray explains his measuring technique, which is along the top of the penis from the pubic bone to the head. But by measuring along the underside, from his balls, gave him an additional inch, and therefore a penis of exactly average length.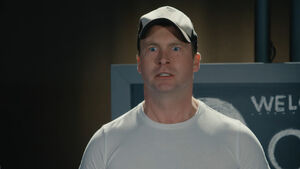 Katy opens up the phone lines, but all the callers—JD Williams of Wallace Township. John Heinmiller from Elma Township, and Brent Zurbrigg from Howick Township all call McMurray a piece of shit and wonder how he could possibly keep Mrs. McMurray satisfied. Gary Hoskins from Lucan Biddulph and Sal Smith and Richard Van den Berg (who took Mrs. McMurray to semi-formal in '03) from Huron-Kinross call to comment on Mrs. McMurray, and Patricia Marie Shuli from Georgia Bluffs, who hooked up with McMurray at a buck and doe, say four inches is a "criminal embellishment." and that "if you were ten off the tee I still wouldn't golf with you."
Wayne's interest in the show rises with the callers. Ronnie Schroeder from Woolwich calls in to tell McMurray to get out of the way so he can have a go at the Mrs.
It's an average-size penis. — McMurray
Plot Summary
[
]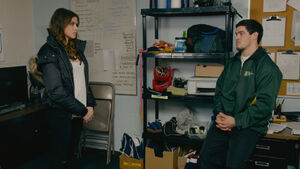 Tanis and the coach of the Native team are negotiating. Tanis' Doda has died and left her some money, with which she wants to purchase the Kerry County Eagles. She has cousins coming up in minor hockey who used to watch the Eagles but have stopped and are starting to get into trouble, and she would invest money to create a "more exciting environment" at the games. "Money talks, baby" she says, but the coach refuses. The Eagles are in first place, and "W's talk, 'baby.'"
Tanis suggests she could organize another team to play against the Eagles. The coach is not about to risk his top-ranked team mid-season on a meaningless exhibition game, but Tanis makes a proposal: if she wins, he lets her take over, and if he wins, she will suck his dick. To this, he agrees.
Auntie talks, baby. — Tanis
Tanis, accompanied by Axe and Slash, heads to Letterkenny to assemble her squad. First, she visits the Coach, who is in a "solo spin class" he claims to love. The moment she says she needs a coach, however, he hops off, kicks over the bike, and exclaims she has found one. When she tells him they are resurrecting the Letterkenny Irish, however, he pauses.
That team is dogshit. — Coach
All head next to the gym, where Reilly and Jonesy are much more enthusiastic about the revival than the Coach. Dax and Ron offer their skills in finding holes and getting deep as well. Next, the Coach says the team needs some sandpaper.
The Coach and Tanis come across Tyson and Joint Boy brawling with some random guys in the parking lot, and the team is almost complete, but the Coach feels there is still one missing piece: people who know how to win a championship.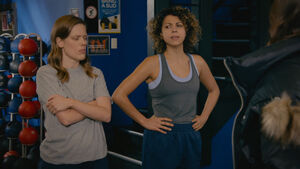 Betty-Ann and Mary-Ann are excited to get back on the ice, but the Coach tells them he is not interested in them playing, but coaching. They are in, but the Coach stirs the pot by saying he is glad they are not having a conversation about women doing everything men can do, which offends all three women. The coach points out, however, that the men are physically bigger and faster than the women, and could potentially even kill them. He watches every Olympic event, and the men's speeds, results and times eclipse the women's.
Betty-Ann and Mary-Ann challenge the Coach to a game; even though the Letterkenny Shamrockettes have folded, the girl would love to reunite for this. If they lose, they will coach the Irish. Tanis proposes a no-contact game. Betty-Ann and Mary-Ann throw menacing glances at the Coach, who can barely contain his laughter.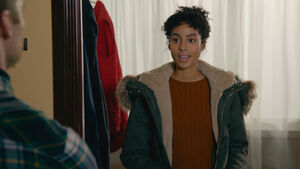 Wayne returns home at the farm to find Rosie waiting. She has come to ask a favor: to take care of a pit puppy, Zeke, for a couple of days. They acknowledge that the breed is illegal in Ontario, but Rosie notes that no vet supports breed-specific legislation, and so he has been recorded as an American bulldog. Rosie will soon return to Vancouver for her work in pit bull rescue, but only to claim Zeke's sister, and after that, she will be back.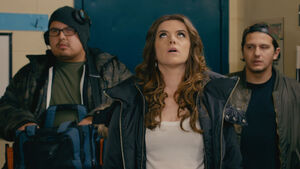 Tanis enters the Irish dressing room an announces that the team will be mic'd before they go. Her cousins love the chirping on the NHL Mic'd Up videos, and she wants to provide "a pro-level in-game experience" for them, although she keeps saying "mic'd out" instead of "mic'd up." She then calls up to the Skids in the control booth, and a nervous Roald reports that Stewart has not yet picked out their walk-up song. Stewart lists some NHL signature songs, seeking inspiration, when interrupted by Jim Dickens, who has come to announce the game.
Might I suggest… a Boogie? — Jim Dickens
Tanis returns to the dressing room, but Reilly says Barts, Yorkie, Scholtzy, Fisky, and Boomtown are missing. Tanis defensively says they are not missing anyone, and in fact, has a player who plays bigger than all of them combined. At this, Reilly and Jonesy groan, and Shoresy, from a toilet stall, lays into them.
Will you two just man up and make out? I started an office pool for it and the day I picked is tomorrow. Get tuggin', tit-fuckers. — Shoresy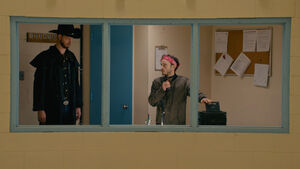 Stewart has still not selected an entrance song, and under pressure, abandons the booth. Tanis orders Roald to press play, and O Siem by Susan Aglukart sounds forth as the players take the ice. Tanis puts on her headphones to hear the "mic'd out" player's chirps. Shoresy seizes the puck at the face-off and scores a goal within seconds, handing his stick over the glass to a spectator as part of his celly.
Shoresy continues to score while chirping the Shamrockettes, especially #17, who he calls "Cuteness Everdeen" because she reminds him of The Hunger Games.
Hey, what's your favourite kind of pizza, Cuteness? Mine's pizza ass. — Shoresy

Back at the farm, Zeke chases Wayne as he moves bales. Wayne discloses to Marie-Fred that he is watching him as a favor to a gal he used to date, and Marie-Fred replies that when a friend asks for help, you help them.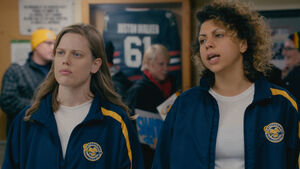 Betty-Ann and Mary-Ann approach the Coach between periods to concede the game and to begin coaching the team right away to play against the Natives. As they leave, Tanis approaches and sees a smile on the Coach's face.
The Letterkenny Irish are back. — Coach
Quotes
[
]
Tanis: Daxy, Ronzy.
Dax: Tanzy.
Tanis: Never again.
Dax: Gotcha
Coach: We only got one shot at this. One chance. One win. You know? Vomit on your mom's spaghetti, or whatever that talking singer says.
Mary-Ann: Women can do anything men can do.
Betty-Ann: Women can do it better.
Coach: Eh, no.
Mary-Ann: No?
Coach: No.
Betty-Ann: No?
Coach: No.
Tanis: No?
Coach: No.
Mary-Ann: No?
Coach: No.
Betty-Ann: No?
Coach: No.
Betty-Ann: So you're saying men are superior to women?
Coach: Yeah.
Mary-Ann: Yeah?
Coach: Yeah.
Betty-Ann: Yeah?
Coach: Yeah.
Tanis: Yeah?
Coach: Yeah.
Mary-Ann: Yeah?
Coach: Yeah.
Betty-Ann: Yeah?
Coach: Yeah.
Tanis: Yeah?
Coach: Yeah.
Rosie: I'm back.
Wayne: That's what you are.
Shoresy: Fuck you, Jonesy. Your mom pulled the goalie on me and now she's preggo. Surprise, son. Go rake the fuckin' yard.
Reilly: Fuck you, Shoresy.
Shoresy: Fuck you, Reilly. I slipped one past your mom too. Her preggo farts smell like hot dog water.
Jonesy: Fuck you, Shoresy.
Shoresy: Fuck you, Jonesy, your mom's in her first trimester and already bitching about baby brain. Had to tell her she's been dumber than Reilly's mom since the genesis.
Reilly: Fuck you, Shoresy.
Shoresy: Fuck you, Reilly. I talked your mom into a three-way with our midwife and she gassed us both out of the room. I'm fuckin' humiliated.
Jonesy: Fuck you, Shoresy.
Shoresy: Fuck you, Jonesy, your mom wants to name the baby after the place it was conceived. Can't wait to meet Martha's Vineyard Shore.
Reilly: Fuck you, Shoresy.
Shoresy: Fuck you, Reilly, your mom wants the same thing. How do I shorten down "Handicapped Bathroom at Cheesecake Factory in Boca Raton?
Reilly and Jonesy: Fuck!
Slash: Affirmative.
Tanis: "Affirmative"? What is this, the starship fuckin' Enterprise?
Axe: Yeah, I wish.
Slash: Me too, I wish.
Shoresy: Nice fucking birdcage. At the end of the day, what are you really protecting?
Shoresy: Great day for competitive men's hockey, eh? What's women's hockey like? Same thing, less competitive or what?
Shoresy: You skate like a fuckin' girl, birdcage.
Shamrockette #17: 'Cause I am one.
Shoresy; No, you're not. Are you really? Holy fuck.
Marie-Fred: Look what the cat dragged in!
Wayne: Better than what the cat coughed up.
Coach: I've seen bitter biscuits, and what I'm seeing is a lot of bitter biscuitry.
Callbacks and Running Gags
[
]
Cultural References
[
]
"Hit 'em with the Hein" is a 2016 catchphrase from The Howard Stern Show created by Jason Kaplan, a writer for Stern's show, to irritate Jon Hein, who hosts Stern's wrap-up show on the same Sirius channel. Kaplan credits another staffer, Nik Ruckert, for coining the phrase.
The mic'ing up of athletes was first popularized in American football, starting with Bill Saul in 1967, and is now commonplace in many sports.
"Vomit on your mom's spaghetti, or whatever that talking singer says," as Coach says, is a reference to a lyric from "Lose Yourself," performed by rapper Eminem from the soundtrack to his 2002 film 8 mile, and which became his signature track.
"Loonies and toonies" refer to Canadian coins; the $1 coin introduced in 1987 features an image of the Canadian loon, the provincial bird of Ontario, on the reverse, and was nicknamed the "loonie." When the $2 coin was introduced in 1996, it was nicknamed the "toonie" in imitation, although it features a polar bear on the reverse.
Amendments to the Dog Owners' Liability Act (DOLA) that went into effect in 2005 bans pit bulls in Ontario, place restrictions on existing pit bulls, and increase penalties for the owners of any dog that poses a danger to the public. The province also bans the Staffordshire bull terrier and the American Staffordshire terrier, The Canadian Veterinary Association does not endorse such restrictions.
O Siem, from the album This Child, is Susan Aglukark's biggest hit, reaching #1 on the Canadian country and adult contemporary charts in 1995, and making her the first Inuk performer to have a Top 40 hit.
50/50 tickets is a term for raffle tickets, so called because they are distributed as a pair of coupons with matching serial numbers.
"Cuteness Everdeen" is a play on Katniss Everdeen, the central protagonist of The Hunger Games.
Trivia
[
]
A 2015 meta study found average erect length of a penis to be 5.17 inches, as reported by CBC
It is not established why the Shamrockettes disbanded, considering they were the most successful hockey team in town.
Music
[
]
According to Tunefind, the following songs are featured on this episode:
Will You Smile Again for Me by …And You Will Know Us By the Trail of Dead (assembling the team)
O Siem by Susan Aglukark (walk-out music)
Moonlight by Death From Above 1979 (hockey game)
Right On, Frankenstein! by Death From Above 1979 (end credits)
Appearances
[
]
Mary-Ann

Betty-Ann

"Cuteness Everdeen" (Shamrockette #17)
Locations
[
]
Crack N Ag studio
Hockey arena at the Rez
Coach's house
Gallery
[
]
→ See 55 images from W's Talk, Baby at Images from W's Talk, Baby.