We're Getting Mutants in the MCU - The Loop
Play Sound
Uncle Eddie's Trust is the fifth episode of Season 2 of Letterkenny.
Synopsis
[
]
Wayne and Katy inherit some money. Folks from Letterkenny pitch them on why it should be theirs.
Cold Open
[
]
You ran out of beers with your pals the other day…" — Wayne
Katy dislikes the phrase "to be fair," echoed by Dan and Wayne; they repeat it in an exaggerated British accent. Wayne discards the last of his beer, since the bottom inch is "fifty percent spit" anyway; he says he doesn't eat the bottom of ice cream cones either: "You throw it on the fuckin' ground, Dan." Daryl reports that they are out of beer, and only have leftover spirits from the Christmas party. He suggests cocktail recipes. He has saved the last beer for himself.
Now you're no mixologist but your best bet here is to mix them all together into what you call donkey juice. However, to be fair, donkey juice'll make you spit. — Wayne
Plot Summary
[
]
Katy reports that Uncle Eddie—Letterkenny's longest-running mayor—has died in Ft. Lauderdale, and has left them $5,000. Wayne initially proposes they use it to throw a party, but Katy says his will stipulated it be put to good use for the community. They post on Facebook that they will accept proposals, and word spread quickly among all the townsfolk, who show up "faster than shit through a goat."
Bonnie McMurray narrates an overview of the setup (a parody of Dragon's Den or Shark Tank). First up are the Skids, who propose a local television show: they will gather the biggest "disasters" in Letterkenny and have their friends and family tell them to stop their "disastery." Stewart is surprised to hear that Devon and Roald have prepared a demo, and they hold an intervention for him. Wayne and Katy decline.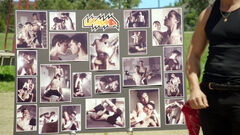 Bonnie then introduces "winners of the genetic lottery with no more than an ounce of gray matter between them": Reilly, Jonesy, Tyson, and Joint Boy. The jocks propose a local television show where the toughest youth in Letterkenny will live in a house with a gym and a pool, work out together, and fight each other while shirtless. Katy admires the poster of "sweaty dudes" they have brought, but Wayne finds the proposal "a tad fruity loops."
Next up is Gail, introduced as a "bartender-turned-dog breeder." She wants to give back to the community by helping people find love in a local dating show, reminiscent of The Bachelor. Twenty women from Letterkenny would live in a house together and compete for Wayne's hand. Wayne is keener on the proposal than Katy. Gail mentions that he will visit each of the three finalists at their homes, have sex with them, and meet their families, and then decide which to marry. Wayne does not want a girl whose family would let her engage in such "self-harming, health-hazardous, and humiliating" behavior. Wayne also rules out a female version centered on Katy.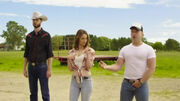 McMurray, Mrs. McMurray, and Jim Dickens pitch a local version of Storage Wars, claiming the contents of abandoned storage lockers and selling the contents. Katy is skeptical that anyone keeps anything of value in their storage locker. The group then presents the contents they have retrieved from a storage locker in Tiverton, which includes fishing lures, DVDs, a microwave oven, and paint among other items. McMurray values the takings at $50,000, plus at least $100 each for drill bits. Katy and Wayne are out.
Glen arrives with three boys, Mylo (Kennedy), Levi (Cohen), and Finn (Campbell), with whom he will give back to the community by spreading the word of Christ through song. He wants to use the $5,000 to take them to Los Angeles to audition for America's Got Talent. The boys sing a hymn, while Glen dances and sings over them. Wayne and Katy is unimpressed.
A hungover Dan and Daryl want to use the money to get jobs for people, opening a factory to manufacture duck calls. Everyone in the factory would wear beards, shoot guns, and blow up beaver dams. Wayne and Katy are intrigued until they say they will use their influence to "condemn the homosexuals" and then go home to eat supper and pray. They admit that they have nothing against homosexuals, and got the idea from a TV show, and just wanted to have fun. Katy declares theirs the worst pitch they've seen, and Wayne points out that Daryl cannot grow a beard.
Wayne and Katy conclude that Uncle Eddie would want them to throw a party, which they throw at the produce stand with all of the proposers in attendance. They toast Uncle Eddie and putting his money back into the community in the most appropriate way possible. Daryl reports that they are out of beer—$5,000 worth.
Quotes
[
]
Wayne: Like, here, have some ice cream and fucking bugs, likely.
Dan: What do you do with the bottoms of the ice cream cones?
Wayne: Well, you throw it on the fucking ground, Dan. You let the bugs eat it. It's the circle of life. Didn't you never see The Lion King?
Dan:
You know I love The Lion King.
Stewart: From there, we film their friends and family telling them they must halt said disastery, posthaste!
Katy: Is "disastery" a word?
Stewart: It's a band name. Quantifiable.
Gail: I'm asking for 5K for 69% of my company.
Wayne: Why 69?
Gail: Both sides benefit.
Wayne: Hey, y'ever had a frozen girl scout?
Glen: Yes, but with three scoops of chocolate gelato instead of ice cream. I'm proudly lactose-intolerant.
Wayne: So am I, but you can power through that if you really want to.
Glen: Well, there was supposed to be an intermezzo, but Mylo keeps forcing his falsetto and not accepting the fact that he is a castrato, and Levi thinks this is madrigals and will not allow me my obligato, and then there's Finn. This is not fucking Glee!
Wayne: Well that's pertnear the point of donkey juice, you know you'll have a spit.
Katy: Well, do you still want to blow up beaver dams?
Dan: Oh, can we still blows up the beaver dams?
Daryl: Oh, yeah, I kind of thought this whole conversation was about us blowing up beaver dams.
Wayne: I'm surprised you're not blowing up beaver dams right now.
Callbacks and Running gags
[
]
Introduced
[
]
To be fair
Wayne doesn't drink the bottom of his beer
Insects in ice cream cones
This conversation's fast becoming a confrontation.
Letterkenny MMA
Recurring
[
]
Cultural References
[
]
The entire episode is an extended parody of Dragon's Den, a reality show broadcast on CBC TV since 2006 on which Canadian entrepreneurs pitch their businesses to a panel of venture capitalists (the "Dragons") to try to win an investment or partnership with them. The show is produced under many different names in different countries; the U.S. version of the show is known as Shark Tank. Bonnie McMurray plays the role of the normally off-screen narrator of the show, and Wayne and Katy serve as the dragons; Wayne's observation that Bonnie's narration is unusual is arguably the closest the show comes to breaking the fourth wall.
Devon mentions seeing Stewart's penis at the Elmira pool, a reference to the aquatic facility in Elmira, Ontario, a town about 36.6 km to the southeast of Listowel, upon which the fictional town of Letterkenny is based.
The Skids' proposal for a television show about local "disasters" is a reference to the A&E reality show Intervention, which shows people in destructive lifestyles due to addiction or compulsions, and their friends' and families' efforts to get them treatment, which culminate in an "intervention" meeting where they deliver an ultimatum.
The hockey players' proposal for a television show in which youth are put in a house together to train and then fight one another is reminiscent of The Ultimate Fighter or The Ultimate Fighter Nations: Canada vs. Australia, which aired in 2014.
Gail's proposal for a matchmaking competition show is a reference to The Bachelor. Although the show does not focus on physical intimacy, various accounts from former contestants indicate that the "bachelor" often (but not always) has sex with multiple contestants in the later part of the season.
The

Ag Hal

board's pitch for a show about buying the contents of storage units at auction is a reference to the A&E show Storage Wars. , claiming the contents of abandoned storage lockers and selling the contents. Katy is skeptical that anyone keeps anything of value in their storage locker. The unit they have acquired is located in Tiverton, a town about 90 km (57 mi) to the northwest of Listowel.
McMurray calls Mrs. McMurray "Vanna," a reference to Vanna White, letter-turner and co-host of the American game show Wheel of Fortune since 1982. The McMurrays' interest in her for "roleplay" likely refers to a 1987 issue of Playboy'. The pornographic magazine had obtained risqué photos of White, and published them in the issue and on the cover, threatening White's job, and prompting lawsuits from her, later dropped.
A brad point bit is a type of drill bit used for boring straight holes in wood.
Enya is an Irish singer-songwriter, know for her influence on modern Celtic music.
Glee as an American musical comedy-drama about a high school glee club, although most issues revolved around various social and personal issues facing the characters.
America's Got Talent is an American television talent show created by Simon Cowell and broadcast on Citytv. The Canadian version, Canada's Got Talent, only had one season produced, in 2012, although a revival was announced for 2022. Auditions for the 2017 season of the show were held in eleven different cities in the United States, not just Los Angeles.
Glen uses a variety of Italian words, but not all of them are musical terms, e.g. "ragazzo" means "boy," and "equazionato" means "equationed." Some other terms include the following:

espressivo — to play physically expressively
glissando — a continuous upward or downward slide of notes
crescendo — a gradual increase in loudness
intermezzo — a short instrumental piece played between movements or acts
falsetto — a method of singing notes higher than one's normal vocal register
castrato — a male soprano or contralto whose voice is made possible because of castration before puberty
madrigals — a type of polyphonic song for multiple voices
obbligato — in the sense used here, an elaborate accompaniment to a solo or melody
ostinato — a musical phrase that is repeated throughout a composition
sonatina — a "little sonata," which may be shorter, lighter, or simpler than a composer's typical sonata
partita — an ordered set of musical pieces, especially for a solo instrument
accelerando — increasing in tempo
capriccio — a fast, free-form piece of music
contralto — a vocal range usually considered the lowest female voice, higher than tenor and lower than mezzo-soprano

The show Dan and Daryl base their idea on is Duck Dynasty, which attracted controversy in late 2013 due to "dynasty" patriarch Phil Robertson's statements critical of homosexuality in a GQ interview. A&E suspended him from the show, but later reversed itself, and the show filmed 7 more seasons, for 11 in all.
Trivia
[
]
The title is a play on the word "trust," referring to Uncle Eddie's belief in the character of Wayne and Katy, and to the sum of money he has entrusted to them.
The cover thumbnails for this episode on Hulu and SBS are not taken from this episode.
The entire episode takes place on the farm. The only other episode which takes place entirely at one location is the Christmas special, The Three Wise Men, which also takes place exclusively at the farm.
The "Christmas potluck" is said not to have taken place "in a half dozen" years at least, despite their averred love of tradition and Wayne's rare enthusiasm for a holiday as seen in The Three Wise Men, for reasons unexplained. At the party in the Christmas special, they do offer crème de menthe, blue curaçao, and butter ripple schnapps.
The mutual affection Wayne and Katy share with Uncle Eddie, as first indicated in this episode, gives rise to fan theories that he held an outsized influence in their upbringing.
Katy chirps Reilly and Jonesy about "taking down" their student trainer on her kinesiology co-op. In In It to Win It,

Ellen

introduces herself to Tyson and Joint Boy as another kinesiology student looking for a work placement.
Uncle Eddie is described as a "real fucking legend" on the dance floor. Wayne relates a tall tale related to his legend in the cold open for Great Day for Thunder Bay.
Glen is a "Southern evangelist turned Letterkenny youth worker," the "fastest Boy Scout to ever earn his badges in basketing and buglery," and "proudly lactose intolerant."
Music
[
]
According to Tunefind, the following songs are featured in this episode:
Ballin' by Game Genies (Katy posts on Facebook)
Dragon's Den by Jason Corbett
The Hair Song by Black Mountain (the party, end credits)
Appearances
[
]
Locations
[
]
Gallery
[
]
→ See 7 images from Uncle Eddie's Trust at Images from Uncle Eddie's Trust.
External links
[
]