Cobra Kai Season 4 - The Loop
Play Sound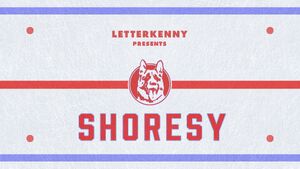 Shoresy is a comedy spinoff of Letterkenny featuring the titular character Shoresy anticipated for release in 2022. Casting sheets list both Crave and Hulu as associated networks [1].
Development
[
]
The popularity of Letterkenny had led to rumors of spinoffs. According to Justin Stockman, vice-president of content development and programming at Bell Media, basing a spinoff on Shoresy—a side character whose face is never seen—was "the most bizarre idea," but made ultimate sense as Shoresy was the top character associated with Letterkenny merchandise, and his limited backstory left room for creativity (The Canadian Press). Bell Media announced it had ordered the new series on June 10, 2021 in the Lede:
From the team behind the smash-hit series LETTERKENNY comes its first official spin-off, SHORESY. Created by, written by, and starring Jared Keeso, directed by Jacob Tierney, and produced by New Metric Media in partnership with WildBrain and Play Fun Games, in this new series, Shoresy joins a senior triple hockey AAA team in Northern Ontario on a quest to never lose again.
Tierney is also credited as executive producer, along with Mark Montefiore of New Metric Media, and Kaniehtiio Horn, who plays Tanis, is listed as consulting producer.
Casting
[
]
From the start, Keeso was slated to continue portraying Shoresy, although no hint was offered as to whether his face would continue to be obscured, and whether he would continue to use a falsetto voice.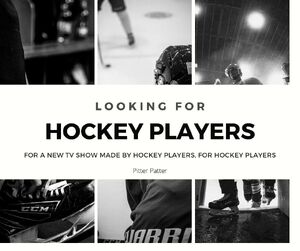 On October 3, Northern Casting began put out an open casting call for male performers age 20 to 29 with junior B or higher hockey experience, and for the role of Tendy, "a goalie on Shoresy's team who has a bad attitude and tends to blame anyone but himself for the team's misfortunes" [2]. On October 13 they put out a call for additional hockey players for "a new TV show made by hockey players, for hockey players" [3] Male players 18–38 were sought for dates from mid-November to early December. Calls were also put out for "sexy bar patrons" ages 18–35, and for hockey fans 18–100 from Northern Ontario and the Sudbury area—"only experience needed is the love of the good ol' hockey game!" [2].
On November 1, Northern Casting also issued a rush casting call seeking a female of any ethnicity aged 18–30 for the character of Alice, described as "flirty but not bubbly. She's playful. Sanguinet and Goody's love interest" [1].
Among the first cast was Jon Mirasty, a former hockey player born and raised in Flying Dust First Nation.[4] On November 18, additional cast members were announced, including the return of JJ Frankie JJ from the episode National Senior Hockey Championship, and Kim Cloutier (Anik) appearing as a guest star[5]:
Tasya Teles as Nat
Harlan Blayne as Sanguinet
Blaire Lamora as Ziigwan
Keilani Rose as Miigwan
Jonathan-Ismael Diaby as Dolo
Terry Ryan as Hitch
Ryan McDonell as Michaels
Max Bouffard as

JJ Frankie JJ

Andrew "The Canon" Antsanen as Goody
Jon "Nasty" Mirasty, Brandon Noaldn, and Jordan Nolan as Jim, Jim, and Jim
Keegan Long as Liam
Bourke Cazabon as Cory
Guest stars in the debut season would include Laurence Leboeuf, Scott Thompson, Jonathan Torrens, Camille Sullivan, Eliana Jones, Kim Cloutier, Michala Brassuer, and Lysandre Nadeau.[5]
Production
[
]
Filming of the series was slated to begin in the Sudbury area in November 2021 and to continue until the end of December.[2]. A Bell Media release confirmed filming was underway on November 18.[5] Jacob Tierney, who co-created Letterkenny and has directed every episode, is also director on the new show, and will make an appearance.[6]
In appreciation for the promotion the show will bring to Greater Sudbury, and for New Metric Media's contributions to the local economy throughout the filming of Letterkenny, estimated at around $40 million, the Greater Sudbury city council passed a motion in November 2021 from Ward 7 councilor Mike Jakubo to halve rental rates at the Sudbury Community Arena for the filming of Shoresy, an in-kind contribution worth approximately $50,000.[7] Jakubo stated the production of new series would contribute $4.8 million to the regional economy, including $2.3 million in labour alone. The support came as a grant from the Northern Ontario Heritage Fund Corporation film program came in lower than expected, threatening a funding shortfall.[7]
References
[
]
↑ 1.0 1.1 Northern Casting Facebook post, November 1, 2021
↑ 2.0 2.1 2.2 ""Letterkenny spinoff Shoresy to begin shooting in Sudbury shortly," The Sudbury Star, October 31, 2021
↑ Knopp, Elliott. "Flying Dust First Nation man to appear on Letterkenny spin-off," Meadowlake Now, November 2, 2021
↑ "Production starts in Sudbury on Letterkenny spinoff," The Sudbury Star, Nov. 23, 2021
↑ 7.0 7.1 "City council pledges 'in-kind' support for Letterkenny spinoff 'Shoresy'," Sudbury.com, Nov. 18, 2021