Jurassic World: Dominion Dominates Fandom Wikis - The Loop
Play Sound
Shoresy is a comedy spinoff of Letterkenny featuring the titular character Shoresy, released on May 13, 2022. Shoresy joins a struggling AAA team, the Sudbury Bulldogs, in Northern Ontario, and embarks on a mission to "never lose again."
Episodes
[
]
Six episodes have been produced, with Jared Keeso credited as writer and Jacob Tierney credited as director for all episodes.[1] Crave released the first two episodes on May 13, 2022; this represents a change from Letterkenny, which it has released an entire season at a time. It released episodes 3 and 4 on May 20 and the final two on May 27. All episodes of the show were released May 27, 2022 on Hulu in the United States and May 28, 2022 on SBS On Demand in Australia.
| No. | Title | Synopsis |
| --- | --- | --- |
| 1 | Never Lose Again | Shoresy tries to prevent his team from folding. |
| 2 | Veteran Presence | Shoresy and his new recruits attend a team mixer at Nat's. |
| 3 | Know Your Role | The Bulldogs face off against the Timmins Timber Kings and the infamous Apeldoorn brothers. |
| 4 | If You Can't Win, Don't Play | Shoresy attends his family reunion, and the Bulldogs play the North Bay Norsemen. |
| 5 | Hockey Brings People Together | The Bulldogs face the powerhouse Soo Cyclones. |
| 6 | Don't Poke the Bear | The Soo Cyclones return for the Bulldogs' final game of the season. |
Development
[
]
The popularity of Letterkenny had led to rumors of spinoffs. According to Justin Stockman, vice-president of content development and programming at Bell Media, basing a spinoff on Shoresy—a side character whose face is never seen—was "the most bizarre idea," but made ultimate sense as Shoresy was the top character associated with Letterkenny merchandise, and his limited backstory left room for creativity (The Canadian Press). Bell Media announced it had ordered the new series on June 10, 2021 in the Lede:
From the team behind the smash-hit series LETTERKENNY comes its first official spin-off, SHORESY. Created by, written by, and starring Jared Keeso, directed by Jacob Tierney, and produced by New Metric Media in partnership with WildBrain and Play Fun Games, in this new series, Shoresy joins a senior triple hockey AAA team in Northern Ontario on a quest to never lose again.
Tierney is also credited as executive producer, along with Mark Montefiore of New Metric Media, and Kaniehtiio Horn, who plays Tanis, is listed as consulting producer. Casting sheets listed both Crave and Hulu as associated networks [2].
Casting
[
]
From the start, Keeso was slated to continue portraying Shoresy, although no hint was initially offered as to whether his face would continue to be obscured, and whether he would continue to use a falsetto voice.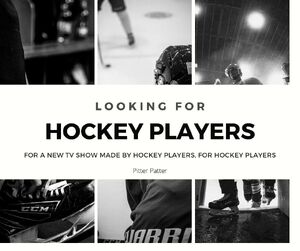 On October 3, Northern Casting began put out an open casting call for male performers age 20 to 29 with junior B or higher hockey experience, and for the role of Tendy, "a goalie on Shoresy's team who has a bad attitude and tends to blame anyone but himself for the team's misfortunes" [3]. On October 13 they put out a call for additional hockey players for "a new TV show made by hockey players, for hockey players" [4] Male players 18–38 were sought for dates from mid-November to early December. Calls were also put out for "sexy bar patrons" ages 18–35, and for hockey fans 18–100 from Northern Ontario and the Sudbury area—"only experience needed is the love of the good ol' hockey game!" [3].
On November 1, Northern Casting also issued a rush casting call seeking a female of any ethnicity aged 18–30 for the character of Alice, described as "flirty but not bubbly. She's playful. Sanguinet and Goody's love interest" [2].
Among the first cast was Jon Mirasty, a former hockey player born and raised in Flying Dust First Nation.[5] On November 18, additional cast members were announced, including the return of JJ Frankie JJ from the episode National Senior Hockey Championship, and Kim Cloutier (Anik) appearing as a guest star[6]:
Tasya Teles as

Nat

Harlan Blayne Kytwayhat as

Sanguinet

Blaire Lamora as

Ziigwan

Keilani Rose as

Miigwan

Jonathan-Ismael Diaby as

Dolo

Terry Ryan as Ted "

Hitch

" Hitchcock
Ryan McDonell as

Michaels

Max Bouffard as JJ Frankie JJ
Andrew "The Canon" Antsanen as Brant "

Goody

" Goodleaf
Jon "Nasty" Mirasty, Brandon Nolan, and Jordan Nolan as

Jim, Jim, and Jim

Keegan Long as

Liam

Bourke Cazabon as

Cory
Guest stars in the debut season would include Laurence Leboeuf, Scott Thompson (Shoresy's foster father), Jonathan Torrens (as Remy Nadeau), Jacob Tierney (as Benoit "Benny" Brodeur) Camille Sullivan, Eliana Jones (as Mercedes), and Michala Brassuer, as well as appearances by Lysandre Nadeau, Tessa Bonhomme, and Jay Onrait as themselves.[6]
Kim Cloutier and Bouffard reprise their roles from Letterkenny, as Anik Archambault and JJ Frankie JJ respectively. Ryan, who appeared as "Teddy" in the Season 8 episode "Miss Fire," also returns as Ted "Hitch" Hitchcock.
Production
[
]
Shoresy is produced by New Metric Media, in partnership with WildBrain and Play Fun Games in association with Bell Media for Crave, with the participation of Canadian Media Fund, OMDC Tax Credits, and the Canadian Film or Video Production Tax Credit and the Northern Ontario Heritage Fund, and is distributed by WildBrain; New Metric Media is the exclusive sales agent.
Jared Keeso is executive producer, writer, star, and creator. Jacob Tierney is executive producer and director. Kaniehtiio Horn is consulting producer. Mark Montefiore is executive producer and Kara Haflidson is producer for New Metric Media. For Bell Media, Production Executive is Chris Kelley; Sarah Fowlie is Head of Production, Original Programming; Carlyn Klebuc is General Manager, Original Programming; Justin Stockman is Vice President, Content Development & Programming; and Karine Moses is Senior Vice President, Content Development & News.
Filming of the series was slated to begin in the Sudbury area in November 2021 and to continue until the end of December.[3]. A Bell Media release confirmed filming was underway on November 18.[6] Jacob Tierney, who co-created Letterkenny and has directed every episode, is also director on the new show, and will make an appearance.[7]
In appreciation for the promotion the show will bring to Greater Sudbury, and for New Metric Media's contributions to the local economy throughout the filming of Letterkenny, estimated at around $40 million, the Greater Sudbury city council passed a motion in November 2021 from Ward 7 councilor Mike Jakubo to halve rental rates at the Sudbury Community Arena for the filming of Shoresy, an in-kind contribution worth approximately $50,000.[8] Jakubo stated the production of new series would contribute $4.8 million to the regional economy, including $2.3 million in labour alone. The support came as a grant from the Northern Ontario Heritage Fund Corporation film program came in lower than expected, threatening a funding shortfall.[8]
Promotion
[
]
The show was initially announced June 10, 2021, described only as "Shoresy joins a senior triple hockey AAA team in Northern Ontario on a quest to never lose again."
On February 13, 2022, a trailer video was released to social media featuring shots of the team, including Jared Keeso as #69 Shore—face fully visible (and missing a tooth).
On April 19, 2022, in the Crave and Hulu release date announcement, a teaser trailer was provided featuring a dressing room verbal exchange between Shoresy, from a toilet stall, and Michaels.
A third trailer was released on May 6, 2022 with Shoresy meeting with a reporter, then visiting the Jims at the jail.
Hulu released its own trailer on May 18, 2022 in advance of the May 23 release on that platform.
Promotional Images
[
]
Reception
[
]
Reviews of Shoresy have been broadly positive. John Doyle in The Globe and Mail called it "a real hockey show about real hockey," and called it "letterkenny refreshed." Dan Fienberg of The Hollywood Reporter, in contrast, did not care for the hockey characters or plotlines of Letterkenny, but found it surprisingly enjoyable, comparing it to the underdog film Slap Shot, and admiring the show's appreciation for its women and indigenous characters. Matt Donato for IGN praised the reinvention and expansion of the character and in the upsetting of sports and gender tropes in the "rough and rowdy" show, calling it "an unexpectedly wholesome hockey comedy that makes Letterkenny proud."
References
[
]
↑ 2.0 2.1 Northern Casting Facebook post, November 1, 2021
↑ 3.0 3.1 3.2 ""Letterkenny spinoff Shoresy to begin shooting in Sudbury shortly," The Sudbury Star, October 31, 2021
↑ Knopp, Elliott. "Flying Dust First Nation man to appear on Letterkenny spin-off," Meadowlake Now, November 2, 2021
↑ "Production starts in Sudbury on Letterkenny spinoff," The Sudbury Star, Nov. 23, 2021
↑ 8.0 8.1 "City council pledges 'in-kind' support for Letterkenny spinoff 'Shoresy'," Sudbury.com, Nov. 18, 2021