Jurassic World: Dominion Dominates Fandom Wikis - The Loop
Play Sound
Season 2 of Letterkenny premiered on Canadian video-on-demand service CraveTV (now Crave) on Christmas, December 25, 2016. All episodes were written by Jared Keeso and Jacob Tierney, and directed by Jacob Tierney. The Season 2 Ferda Edition, which provides audio commentary from the cast, was released on CraveTV on May 19, 2017.
A Region 1 DVD distributed by Universal Studios Home Entertainment was released on November 21, 2017.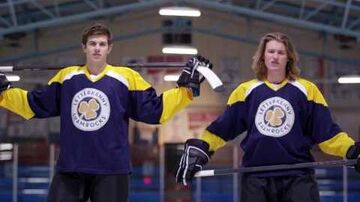 Production
[
]
After the highly successful release of Season 1, CraveTV and The Comedy Network announced the order of the second season of Letterkenny on March 10, 2016 (BellMedia).
Production began in and around Sudbury, Ontario in May 2016, with filming concluded by the end of June (Toronto Star). The release date of Christmas was announced on November 28, 2016 (Toronto Star).
Episodes
[
]
| | Overall No. | Season No. | Title | Synopsis |
| --- | --- | --- | --- | --- |
| | 7 | 1 | A Fuss at the Ag Hall | The hicks attempt to establish order at the Ag Hall while Reilly and Jonesy make the jump to Senior hockey. |
| | 8 | 2 | The Election | The hicks, skids and hockey players participate in a Letterkenny election. |
| | 9 | 3 | Relationships | Wayne doubles down on finding love. |
| | 10 | 4 | The Native Flu | Reilly and Jonesy have an away game on the Rez. |
| | 11 | 5 | Uncle Eddie's Trust | Wayne and Katy inherit some money. Folks from Letterkenny pitch them on why it should be theirs. |
| | 12 | 6 | Finding Stormy a Stud | Tension rises around Letterkenny while Wayne looks for a stud to breed with his beloved German Shepherd "Stormy." |
Running gags
[
]
Introduced
[
]
McMurray and Mrs. McMurray mispronounce Jim Dickens' name, then deny it
Roald pronounces "Stewart" as "Stoort"
Barts, Yorkie, Schultzy, Fisky, and Boomtown all speak in order
Boomtown: I like X like I love Y
Barts, Yorkie, and the Letterkenny Irish love leg day
Reilly and Jonesy, bush inspectors
"Down the hatch"
"To be fair"
Dan is heavily influenced by his women's studies professor
Recurring
[
]
Car stopping at the end of the laneway in front of the produce stand with music playing
Reilly: Hold my spitter
Dan's off-screen second cousins Garrett and Jarrett
McMurray describing someone's clothing and cars in extreme detail
Glen is infatuated with Wayne
Wayne drinks a slug of Gus 'N Bru, lights a cigarette and unsnaps his sleeves before fighting
[Ask a question]. Just kidding, I don't give a fuck.
Wayne: End of the laneway, don't come up the property.
The Ginger and Boots (allegedly) fucked an ostrich
Places where Dan has hoovered schneef
Reilly and Jonesy hate doing legs
The native flu
Wayne: She's a lovely dog
Wayne and McMurray constantly interrupt each other
Coach: It's fuckin' embarrassing!
Characters
[
]