Jurassic World: Dominion Dominates Fandom Wikis - The Loop
Play Sound
Roald is a main character on Letterkenny, played by Evan Stern. He was credited as a recurring character in Season 1 and 2, and has been part of the main cast since Season 3.
"STRT!" — Roald
Biography
[
]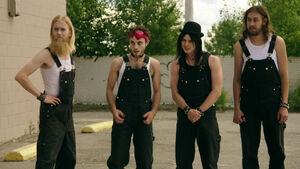 Roald is a member of the Skids, the group of outcasts led by Stewart, who spend most of their time making and doing drugs and playing videogames in their basement, committing petty theft and vandalism around town, or dancing in the dollar store parking lot. After the departure of Devon, he becomes Stewart's sidekick and de facto second-in-command. Roald has a poor relationship with his parents, who do not accept his sexuality, despite naming him after the author of Charlie and the Chocolate Factory (Roald Dahl). In an overheard telephone conversation with his father, he is heard to say he is "still a homo" (MoDeans 2).
When first seen, Roald and the Skids accost Wayne in the parking lot of MoDean's. He joins in their taunting of him for using Tinder and Grindr, although being gay he admits it makes him uncomfortable; Stewart and Devon voice their support of him, however (Ain't No Reason to Get Excited).
Roald remains loyal to Devon during the latter's differences with Stewart over the continuation of the meth business (Rave) and the latter's relationship with Katy (A Fuss at the Ag Hall). Neither hold grudges against the other when Stewart resumes his position at the head of the group, however.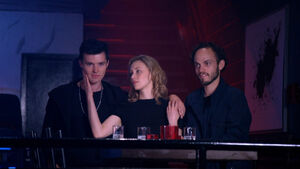 After Devon's disappearance, Roald became the most prominent Skid after Stewart. He is almost always seen by his side. He is present at Stewart's intervention and for his welcome home from rehab (Back to Back to Back). After initial suspicion, then jealousy of Gae, they become friends, and Roald visits Stewart and Gae in the city and helps make and sell green-tinted GHB to club-goers. Concerned Stewart's vigilanteeism will make him the target of violence from the local drug dealer, Roald convinces (with Katy's help) the Hicks to come to the city to bring him back to Letterkenny, which they subsequently do.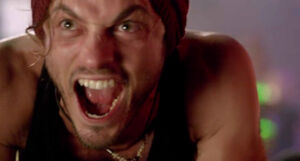 The threat from the dealer does not go away, however, and Roald's "inspiration" board of muscled men becomes inspiration for Stewart to beef himself up and learn to fight (In It To Win It). Roald accompanies Stewart during the latter's training with Ron, Dax, Joint Boy, and Tyson in preparation for battle with the drug dealer at the club, and is compelled to spar against him, although Stewart refuses to strike his friend (The Rippers). When they return to the club to face the dealer, Roald joins in the melee enthusiastically (Ferda).
Although he boycotts the Rave at Devon's behest, Roald is later supportive of Stewart's music career, from DJing at Ron and Dax's wedding (We Don't Fight at Weddings), to serving as sound technicians for Crack N Ag (s7), to choosing the theme music (or failing to) for the re-constituted Letterkenny Irish (In It To Win It). He accompanies Stewart pitching his DJ services at the Breastaurant, and joins him in the booth as one half of a new musical team, 2cock Chakur (NDN NRG).
Roald trains intensely with Lady C to enhance his dance skills when the Skids become embroiled in a VidVok rivalry with the hockey players. He performs a routine flawlessly with her, giving them hope of boosting their viewcounts; however, Lady C goes independent at the encouragement of Aly and Bianca (VidVok).
Appearance
[
]
Roald is young, hirsute, and slender. His face has sharp features, partly covered by a beard and a red bandana he wears as a headband. Like the other Skids, he dresses most often in a white tank top, black overalls, and boots.
Gallery
[
]
→ See 147 images of Roald at Images of Roald.