Doctor Strange in The Multiverse o Madness - The Loop
Play Sound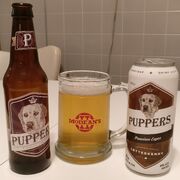 Puppers Premium Lager, usually referred to simply as Puppers, is the preferred beer of the characters on Letterkenny. Starting with Season 2, almost every episode has featured one or more of the Hicks, in particular, drinking a Puppers or wishing for one, or saying in exasperation
Get this guy a fuckin' Puppers.

A pupper is a simply a puppy or any dog in the variety of Internet slang known as DoggoLingo; a drawing of a golden retriever features prominently on the label.
Puppers was entirely fictional at the release of Season 2, on Christmas Day, 2016. In June 2017, Sudbury-bsaed craft brewer Stack Brewing released an authorized American-style lager under this name, producing several in subsequent summers. On June 15, 2021, a new partnership with Labatt Breweries was announced, with the real-life beer taking a new recipe and a new name: Puppers Golden Lager.
Introduction
[
]
Puppers was introduced to the show gradually. While Gus N' Bru whiskey, the other staple alcohol of the town, was mentioned in Ain't No Reason to Get Excited (the very first episode of Letterkenny), no beer was mentioned by name at all in the first season, although the characters all are seen drinking beer, and MoDean's was festooned with advertising for major brands. Throughout Season 1, any beer bottles had been turned so that the labels were hidden or otherwise obscured, although from the parts visible in Super Soft Birthday and Wingman Wayne, the bottles may have been of Carling, an inexpensive Canadian brand produced by Molson Coors.
Label
[
]
At the start of A Fuss at the Ag Hall, the first episode of Season 2, Wayne, Dan, and Daryl are seen drinking Puppers bottles at the produce stand, with Wayne's bottle conspicuously turned to be in view of the camera. A similar scene with similar prominent display of the bottle is found in every episode of the season; however, the beer is not mentioned by name, and when Wayne orders a beer at the resto-bar in Relationships, he asks only for a "pint of lager, please, something local." Since that time, the in-universe presentation of Puppers marketing has expanded to include 24-bottle cases as well as Puppers posters displayed around MoDean's.
Name
[
]
The name of the beer, and its associated catchphrase, finally appears in the cold open for Puck Bunny, the second episode of Season 3.
Wayne.


Dary.
You should get yourself fuckin' Puppers.


I already got a fuckin' Puppers.
Catchphrase
[
]
"Get this guy a fuckin' Puppers" is solidified as a catchphrase for saying someone needs to calm down or look at the big picture in Les Hiques, two episodes later, as Daryl complains about the French. It is used no fewer than six times in that episode, all to Daryl. The beer's in-universe motto, "Who's a good beer?" can also be seen in posters and other background matter in later episodes.
Stack Brewing
[
]
On June 9, 2017, Stack Brewing Co., a craft brewer based in Sudbury, where Letterkenny is filmed, announced that they would be producing a real-life brew called Puppers Premium Lager, in cooperation with New Metric Media, Play Fun Games Pictures and DHX Media. It is sold at selected LCBO outlets as well as online, but due to legal restrictions, can only be shipped to addresses in Ontario, and was briefly available in Alberta.
Puppers is a 4% premium lager, it's everything you could want in a beer. This golden lager has a satisfying taste that will get along with anyone. It's a faithful friend that will always be by your side. Pure. Loyal. Golden. — Stack Brewing release
Unlike in the show, where Puppers is always consumed from brown glass bottles, Stack's Puppers is only available for purchase in 473mL (16 fl. oz.) aluminum cans. The cans are white with brown printing showing the Puppers logo, with "Brewed in the North - Drink Local" encircling the top and "The official beer of Letterkenny" printed below the mascot.
Two associated pop-up shops operated from 5 to 7pm on June 29, 2017 at Peddler's Pub in Sudbury and at Get Well in Toronto, prior to the release of Season 3 on Canada Day (July 1). Another "pup-up shop" ran on May 17, 2018 at 277 Queen Street in Toronto, near the Crave offices. Fans were invited to bring their dogs to have their pictures taken and printed on a souvenir can. Several of these were selected to be featured on cans in the "Canada Day litter." On May 18, Lisa Codrington (Gail) and Kamilla Kowal (Bonnie McMurray) also showed, to pour samples of Gus N' Bru (Toronto Star).
Reviews
[
]
As of January 2022, the RateBeer.com rating for Puppers Premium Lager was 2.49 out of 5 stars, with 88 ratings and 18 reviews; however, an indeterminate number of these ratings and reviews were likely intended for the newer Labatt version, which was more readily accessible starting in 2021.
Labatt Breweries
[
]
Labatt Breweries, in partnership with New Metric Media, producers of Letterkenny, began offering a new beer in 2021 called Puppers Golden Lager, a 5% American-style lager with the following taste notes:
Made with pale and caramel malts and German Perle hops, Puppers is perfectly in balance between malt and hops and sweetness and bitterness. Slightly grainy and yeasty, this dark golden lager is perfectly balanced with a slightly drying, sulphur-toned finish.
The Labatt-produced Puppers is sold, like the Stack-produced Puppers, exclusively in 473 mL (16 fl. oz.) aluminum cans. The printing on the can has changed slightly, not just the name and ABV, but with the motto "Pure. Golden. Loyal" now printed around the top, and a more stylized crown above the mascot's head. It was to be available in Ontario at select LCBO's, Beer Stores, and Sobeys by July 1, 2021.
Reviews
[
]
As of January 2022, the RateBeer.com rating for Puppers Golden Lager was 2.75 out of 5 stars based on only three reviews.
External links
[
]