Jurassic World: Dominion Dominates Fandom Wikis - The Loop
Play Sound
Season 1
[
]
Wayne vs. Troy Dauhmer
[
]
Troy shoves Alexander into a pile of trash which prompts Wayne to smack him. Troy then eggs him on by invoking Angie which then causes Wayne to beat him down. This is Wayne's first fight in a long time.
During this episode, Wayne is on a conquest to reclaim the title of "Toughest Guy in Letterkenny." All fights in this episode are for that reason only with all fights ending on good terms.
Wayne vs. Sled Ted
[
]
Wayne's first fight to reclaim his title as toughest guy in Letterkenny.
Wayne vs. Rat Ass
[
]
Wayne's second fight to reclaim his title as toughest guy in Letterkenny.
Wayne vs. Joint Boy
[
]
Wayne's third fight to reclaim his title as toughest guy in Letterkenny.
Letterkenny vs. The Natives
[
]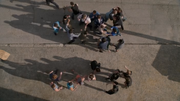 The hockey players find the Skids in the parking lot and prepare to brawl, but they are interrupted by Tanis and her crew. Wayne and his crew (including the Ginger and Boots) then arrive to get Tanis and the natives to stop the destruction. They agree that Wayne will pay Tanis $5,000—most of the proceeds from the marijuana sale—for her to leave town.
Tanis agrees to the arrangement, but stops to insult Stewart viciously. Katy steps in to defend Stewart and kicks Tanis in the crotch, setting off a donnybrook in which the townsfolk defeat the natives. As the natives leaves, Wayne slips the money (which had been dropped during the fight) back into Tanis' hand, upholding their deal.
Letterkenny Fighters
Faction
Name
Body Count
Notes
Hicks
Wayne
1
Wayne downs the Native in the green-hooded jacket
Daryl
Daryl gets downed by Axe
Squirelly Dan
1
Dan takes on two Natives, is later downed by one of them, and later downs Axe.
Katy
1
Katy hoofs Tanis
Joint Boy
3
JB takes down Slash, the green-hooded Native, and the curly-haired Native*
The Ginger
Boots
Hockey Players
Reilly
1
Reilly downs the curly-haired Native
Jonsey
1
Jonsey takes out Devon after calling dibs earlier in the episode.
Rookie
1
Seen behind Wayne as he escorts Tanis away.
Unnamed Hockey Player
1
Seen behind Wayne as he escorts Tanis away.
Skids**
Stewart
1
Conner holds the bald Native while Stewart and Devon punch him.
Devon
Connor
Darien
Darian gets thrown into The Ginger and Boots and disappears from the fight afterwards.
Native Fighters

| Name | Body Count | Notes |
| --- | --- | --- |
| Tanis | | Tanis gets hoofed by Katy then escorted out by Wayne |
| Axe | 1 | Axe downs Daryl |
| Slash | | Slash gets downed by Joint Boy. |
| 9 Unnamed Natives | 2 | A black-shirted Native downs Dan and the blue hoodie Native tackles Jonesy hard. Two Natives seen in the overhead shot of the fight are not seen for the rest of the fight. |
*Note: This fight seems to have poor continuity given how fighters seem to shuffle around at times. One such example is the curly-haired native is knocked out by Joint Boy at the beginning of the fight and is immediately cut to fighting Jonesy.
** Roald is conspicuously missing from the Skids during this fight.
Wayne vs. Tyson
[
]
Tyson comes into Modean's looking for the toughest guy in Letterkenny. Wayne goes to fight him and gets knocked out. At the beginning of the next season, it's revealed that Wayne then got back up and beat Tyson, resulting in another win for Wayne.
Season 2
[
]
Wayne vs. Tyson Rematch
[
]
Tyson, dissatisfied with their last fight, challenges Wayne to a rematch. Wayne shakes his hand and headbutts Tyson, immediately knocking him out.
After the events of "A Fuss in the Back Bush," Reilly and Jonesy enlist the Hicks to help protect them as they go to face the Native team in Hockey.
Wayne vs. a Native
[
]
Info to be added.
Joint Boy vs. a Native
[
]
Info to be added.
Dan vs. Sammy Sammich
[
]
Sammy Sammich attacks Dan after he dresses up as Pitter Patty. Dan is taken to the floor and near subdued by Sammy until Daryl pulls him off and takes care of him instead.
Daryl vs. Sammy Sammich
[
]
Daryl attacks Sammy Sammich after Katy makes her entrance.
St. Patty's Day Brawl
[
]
Wayne, Daryl, Reilly, Jonesy, and McMurray throw out the Degens from Up Country from the St. Patrick's Day party. There are eight Degens seen in this fight. Wayne is seen dragging on out, unconscious, by his arms. McMurray is seen walking one out by his nose. Reilly and Jonesy double team one and throw him out. The rest are likely dispatched but never seen exited.
In all this, Daryl takes on Sammy Sammich once again.
Season 3
[
]
Bar Fight on The Rez
[
]
Wayne vs. Jivin' Pete
[
]
Bad gas travelled real fast to Jivin' Pete who comes to confront Wayne outside of Modean's II. Wayne then proceeds to lay out Pete in a single punch and forces him apologize for calling Katy a slut.
Hicks and Les Hiques vs. Degens from Up Country
[
]
Bradley vs. Wayne
[
]
While incredibly drunk, Wayne, Daryl, and Dan all annoy Bradley to the point where Bradley punches out Daryl and Dan. Wayne steps in to defend his friends but Rosie appears, disapproving of their would-be fight. The episode ends with Wayne popping the cuff on his sleeve. In the next episode, which takes place two months later, it is revealed that Wayne beat Bradley and Rosie dumped him for it. However, at the end of the episode, Bradley calls to say he has no hard feelings over it.
Season 4
[
]
Modean's II Bar Brawl
[
]
Info to be added.
vs. The Degen All-Stars
[
]
Info to be added.
Season 5
[
]
We Don't Fight AT Weddings

[

]
Some citiots have been harassing Katy, Tanis, and Bonnie at Dax and Ron's wedding. Finally fed up with it, while Dax and Ron share their first dance, Katy and Bonnie lure the citiots to a hotel room only to find Wayne, Daryl, and Dan waiting for them. The fight takes place off-screen but we get to see the aftermath as the group leaves the room.
Let's Punch Some Nazis
[
]
Info to be added.
Bock to the Degens
[
]
Info to be added.
Le Biche Brawl
[
]
Info to be added.
Season 6
[
]
Truck Stop Tussle
[
]
Wayne fills up his truck at a station in Quebec while getting the stink eye from from local blue-plaids. One vandalizes Wayne's license plate which prompts Wayne to follow him and his two friends inside and beat them up.
Party Entrance
[
]
Info to be added.
Wayne vs. Chest Puffer
[
]
Info to be added.
Drug Dealers vs. Club Girls
[
]
Info to be added.
Season 8
[
]
Quebec Qerfuffle
[
]
This fight begins in Season 7, Episode 6 - In It To Win It. Daryl heads to Quebec to try to win back Anik with the help of Boots, The Ginger, and Scottie Wallace. Though reluctant at first, Wayne and Dan head up there too. As things are about to get rough, Wayne throws one blue-plaid through a door to find Marie Fred kissing another French man. Wayne then takes the man to the ground and beats him severely.
Episode 4 - Ferda

[

]
Stewart vs. the Drug Dealers
[
]
Info to be added.
Letterkenny vs. Dierks
[
]
After finding out Dierks was cheating on Katy, Wayne summons Letterkenny's finest to descend on Dierks's house to, quote, "beat the shit out of Dierks." Dierks's friends say in the next episode that he was beat up by 8 guys; it isn't clear if Bonnie, Mrs. McMurray, Gail, Rosie and Katy participated.
Season 9
[
]
Diner Dispute
[
]
9 steroid-addled friends of Dierks, hearing that 8 guys beat him up, come to settle the score. The Letterkenny group stall them until Jake arrives with a group of soldiers, who join the Hicks, Skids and Hockey Players in a fight against the 'roid rats.
Tyson vs. Joint Boy
[
]
Tyson and Joint Boy, while trying to teach kids how to fight, get into an argument about whose fighting style is better: Joint Boy's boxing or Tyson's Muay Thai. The fight ends when they headbutt each other, with Joint Boy hitting the floor unconscious and Tyson raising his arms in victory before collapsing as well.
Season 10
[
]
Long Dick Gets Licked
[
]
Dierks brings backup to the NDN NRG premiere in the form of three of his cousins. Dan and Daryl stall with wordplay until Wayne appears behind Long Dick and his crew. The Hicks take one cousin each while Dierks tries to make an escape through the kitchen, only to be blocked off by Stewert and Roald, and gets caught by Wayne as he tries to head out the front. Dierks is then beaten on the floor as Katy watches.
Episode 5 - VidVok

[

]
Shorsey Shows Off
[
]
Wayne, Axe, and Slash are leaving the hockey rink after some zamboni work as Shorsey chirps with JJ Frankie JJ and three other blue-plaid Quebecois. When the French start to make a move, Wayne, Axe, and Slash dive in to help.