Doctor Strange in The Multiverse o Madness - The Loop
Play Sound
The Letterkenny Shamrockettes are a women's ice hockey team based at the Letterkenny Memorial Arena. Their classification is unclear, but their name, colors, and logo suggest they are the female counterpart to the junior Letterkenny Shamrocks.
Unlike the Shamrocks and the Irish, the Shamrockettes had enjoyed great success, winning back-to-back championships. In the process, however, they had a habit of driving away coaches. When the Irish folded, the Coach took over their operation, and recruited Reilly and Jonesy as his assistants (The Ol' College Try)​​​​.
Team unity was threatened when Mary-Anne and Betty-Anne butted heads; the Coach discovered that they had split over a rivalry over a man: Shoresy. Reilly and Jonesy were tasked with rebuilding team spirit, which they accomplished by telling the women that Shoresy had made sexist comments about their hockey abilities. This process was almost derailed when Shoresy was assigned to be a linesman at the championship game, but the team emerged victorious. Betty-Anne scored the winning goal, assisted by Mary-Anne, winning back-to-back-to-back championships for Letterkenny and the first cup that Coach, Reilly, or Jonesy had ever shared (Back to Back to Back).
When Tanis reorganizes the Letterkenny Irish, the Irish and Shamrockettes play an exhibition game against one another. Demonstrably outmatched, Mary-Anne and Betty-Anne call off the game midway through (W's Talk, Baby).
Players
[
]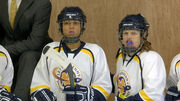 Betty-Anne (#10)
Mary-Anne (#20)