We're Getting Mutants in the MCU - The Loop
Play Sound
See Basement for the main hangout of Stewart and the Skids
The gym, officially named The Basement, is a recurring setting of Letterkenny in Seasons 4, 6, and 8. A banner hung in the interior bills the facility as the "Official gym of the Shamrocks and Irish for over 200 Years."
As may thus be expected, it is frequented by the hockey players; Reilly and Jonesy describe their roles as "celebrity endorsers" during the off-season (Letterkenny Talent Show). Other regulars include Tyson and Joint Boy and Ron and Dax, with appearances by various "gym babes" as well as Alastair the degen (A Fuss at the Golf Course). Later Marie-Fred and Anik go there to work out there on a visit to town.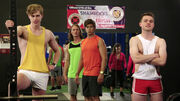 Reilly and Jonesy (and Shoresy) work out at the gym alone, when Katy starts to date Reilly exclusively (Never Work a Day in Your Life). They are each taunted by Ron and Dax, and then both together, but the encounters lead to the four becoming close friends (Way to a Man's Heart)​​​​. The hockey players also offer to train Tyson and Joint Boy in Crossfit, to their amusement (Letterkenny Talent Show).
You look like our before pictures. — Joint Boy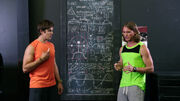 Their focus turns later to their own gains, to the point where they go to Stewart to buy steroids. Roald accidentally provides them with Ritalin instead, leading them to devise a new workout plan which they execute au naturale.
They tire of it, though, beyond posting selfies of working out on Instagram, and later jump at the chance to help George Ian and Fanny Bay with hay (4X6).
Yeah, gym fuckin' sucks, boys. — Reilly

The Hicks have made only one appearance at the gym, to hear the hockey players pitch their latest venture: Leg Day Bae. Wayne flashes a red card for Leg Day Bae, Leg Day Bae for Gays, and all affiliated services, however (Red Card Yellow Card).
The Skids, similarly, are never seen venturing inside until Season 8. It is revealed that Stewart has been training in preparation to take on the Dealer for Aly and Bianca. With Ron and Dax's help he has been strength training, adding muscle in the process (National Senior Hockey Championship). Then, with Tyson and Joint Boy's assistance, he works out a strategy for fighting (The Rippers).
Behind the Scenes
[
]
The Basement Fitness is a real gym in the New Sudbury district of Sudbury, Ontario; the logo, equipment, signs, slate, and so forth are from the actual facility. The Basement Fitness was closed from Friday, August 24 to Monday, August 27, 2018 for filming.