Cobra Kai Season 4 - The Loop
Play Sound
Day Beers Day is the seventh and final episode of Season 8 of Letterkenny.
Synopsis
[
]
It's Day Beers Day. Katy takes a trip.
Cold Open
[
]
Well, you seen some pretty outrageous things in your life, but nothin' more outrageous than what you seen the other day. — Wayne
Katy, Wayne, and Rosie, sitting at the bar at MoDean's, discuss their favourite superheroes with Gail. Wayne's is Batman, Rosie surmises, because he is quiet and mysterious; "no mystique, big mistake" confirms Wayne.
Gail warns that the message has not been received by Reilly and Jonesy, who enter shirtless and wearing compression shorts. Wayne does not bother to turn around; he smells body spray, and knows it can't be good. Katy and Gail express skepticism about the tights, to which Reilly defiantly replies that the look is a small price to pay for the scientific competitive edge. Katy points out that they look exactly like Lululemons, which the hockey players deny.
Reilly also notes that their "junk" is visible not because of the compression tights, but because of a new kind of underwear they are wearing, called Bagz, which "separates your dink from your balls" and your balls from your leg, by dropping them (with a "pop") into their own pouch. Wayne can only marvel: compression tights that put your junk out there, and then special underwear that make your junk stick out even more, a formula the hockey players are fine with.
No mystique, big mistake. — Wayne
Plot Summary
[
]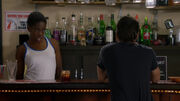 Dierks sits uncomfortably at the MoDean's bar while Gail "makes conversation," asking why he is taking his little cousin to Quebec for his 18th birthday. He points out the drinking age is lower, but Gail points out they have the best strippers in Canada. Rosie and Wayne enter, and Wayne grabs Dierks by the face, saying he is just dying to for a piece of him. He is fetched by Katy and departs.
Everybody in your town likes me except for you, cute butt. — Dierks
But once he is gone, Gail, Bonnie, and Rosie agree: "I don't like that dude."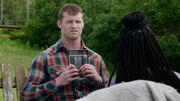 Two days later, Wayne and Rosie are reading and flirting together. She sits next to him and compliments how his pants fit; he replies that it's a good "pant," as the gal at the store had called it, also a "jean." He gets an incoming call from Marie-Fred and declines it, and Rosie is sympathetic. Rosie offers "two strong hands" to help with his chorin', and then they can go "over there" together. He accepts, but has something further to ask.
So, what would you say if like… We started going, like, most places together? — Wayne
Pitter-patter, she replies. It is a big day in Letterkenny, with the Hicks and Skids already drinking: Day Beers Day at MoDean's, although Stewart adds "nose beers" into the mix, while Mrs. McMurray has a pint of gin in. McMurray figures one of these days, they could just fill up the bathtub with gin and skip the middleman.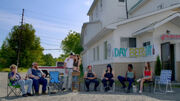 The McMurrays, both hammered, volunteer that Quebec has the best strippers on earth, plus you can touch them ("the tits"). Mrs. McMurray says in nine out of ten, in fact, you can suck on them. They begin to tell a story about a time with a stripper, and Katy hurriedly exits, intending to drive to the States to help Dierks and his cousin with their hangovers.
She narrowly misses Reilly and Jonesy, who had intended to make a run at her, but think about making a run at Bonnie, having heard Katy has a new boyfriend.
Youse twos are the worst. — Dan
Back at the farmhouse, Katy's path is blocked by Gus. It takes some cajoling to get him to move, but he eventually does.
Back at MoDean's, Reilly and Jonesy explain why they hate Yanks. When growing up, they would play U.S. teams in tournaments and get thrashed, because their teams would recruit from all around the country and fly in for practice. It pitted the best players in their country against the best players in the county. Stewart hates Yanks as well, as they were the first to steal and catalogue everyone's online data, and will eventually leak it, hence the Skids' ventures into the Dark Web. Daryl is skeptical about their sources.
www dot heresthething dot e-d-u aresparepartsbud — Daryl
Daryl says he has nothing against Yanks, and the group acknowledges that on the whole, they are good neighbours, but also that they are suspicious of Dierks. They all agree that they would go to any length to defend Katy against an outsider.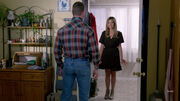 Back at the farmhouse, Wayne answers a knock at the door, and is surprised to see Marie-Fred standing before him. She says she is sorry in French, and Wayne says she did not have to drive all the way over for that, but that is not the only reason she has come. She delivers news that one of her cousins had a bachelor party at a strip club in Montreal a few days ago, and saw a Yank who was buying everyone drinks and showing pictures of his hot girlfriend—Katy. They had come in with a bunch of girls and left with a bunch of girls. They pause, and she asks if things have been getting any easier. "Yep," Wayne answers, as a scantily clad Rosie walks through the room.
At MoDean's, the McMurrays are still recounting tales of their boys' and girls' trips: McMyrtle Beach, the McMayan Riviera, McMaui. They tell a story about a trip to McMontego Bay, rooftop, poolside, villas. The boys and girls ask whether the other spouse knows about this, and it seems they do. Bonnie has Alexander turn on the outside speakers, and the group begins to dance.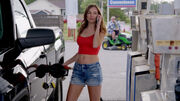 While filling up the truck, Katy makes a phone call, but there is no answer. She tries again at a chip truck. Wayne is seen leaving the farmhouse and getting into Rosie's truck, then approaching the crowd at MoDean's, who are dancing manically. Upon seeing his face, however, they dash immediately for parking lot and pile into the trucks.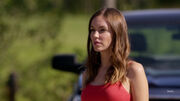 Katy arrives at Dierks' house in Michigan, where she sees his cousin leave with a girl, and another man passed out in a kiddie pool. Dierks walks out of the front door to smoke, shirtless, and seems surprised to see her. Before either of them can say anything, a blonde woman also exits the house and drapes her arms around him.
Dierks looks away and sees the trucks arriving from Letterkenny, and the gang dashes past Katy to deliver her some justice.
Quotes
[
]
Wayne: I smell body spray, so I know it can't be good.
Katy: What do you think about these two?
Alexander: They're not gonna get any chicks dressing like gays.
Gail: What if they are gay?
Alexander: Then they're definitely not gonna get any chicks now.
Wayne: Give me one good reason why you wanna go running in tights with your junk bouncin' about.
Reilly: Give me one good reason why we shouldn't.
Wayne: Want two?
Jonesy: Even better.
Wayne: Women and children.
Roald: And Katy wouldn't even fuck you with my dick.
Reilly: I wouldn't want her to anyway.
Roald: Well, don't knock it till you've tried it.
Reilly: I never do.
Jonesy: Did you know that Yank is kind of not PC now?
Reilly: Mmm, it's true. A player in the Ontario Hockey League got suspended for calling a European player a Euro.
Dan: Youse can get suspended for callings a guys from Europes a Euro?
Jonesy: Happened a couple times.
Dan: What Yank came up with that fucking rule?
Reilly: Yeah, that Yank better behave himself, 'cause if Katy is in trouble, I'll fucking speed‐bag him, boys.
Jonesy: I'd go to the wall for that girl.
Stewart: I'd go through a wall for that girl.
Roald: Full send.
Dan: Yep. That's small towns in a snowglobes for yas.
Daryl: Boy howdy.
Dan: Yep. We might bicker with each other on the inside, but if someone from the outside comes a knockin'…
Callbacks and Running Gags
[
]
Introduced
[
]
If you're not 10 minutes early, you're late
Recurring
[
]
Cultural References
[
]
Lululemon is a sportswear retailer founded in Vancouver which rose to prominence on leggings made from its high-nylon Luon fabric, which proved highly popular for yoga.
Although "Bagz" is a fictional brand, there are a wide variety of "pouch" underwear brands for men that became popular in the mid-2010s.
The Black Donnellys: The True Story of Canada's Most Barbaric Feud, which Wayne claims to have read several times, is a 1954 book by Thomas P. Kelley about the Irish immigrant family who were massacred by a Protestant mob in 1880, for which no one was ever convicted despite eyewitnesses and two trials.
Quebec is known for its more liberal sexual culture, with Montreal's large number of strip clubs (featuring both male and female performers) acknowledged as a major tourist attraction for Americans as well as Canadians. Touching above the belt and "contact" private dances are legal. (The Toronto Star)
Under the Foreign Intelligence Surveillance Act (FISA) Amendments Act of 2008, the U.S. National Security Agency (NSA) has extensive authority to conduct surveillance of international communication such as phone calls, text messages, emails, and web browsing activities. The ACLU and other civil liberties groups have accused them of eavesdropping on domestic communications as well. The U.S. government shares its signals intelligence with the governments of Canada, Australia, New Zealand, and the United Kingdom as part of the "Five Eyes" international organization.
In 2019, Trent Bourque of the Owen Sound Attack received a game-misconduct penalty and was ejected after an altercation with Gera Poddubnyi of the Erie Otters in which he referred to him as an "Expletive Euro." The Ontario Hockey League subsequently suspended him for five games. Poddubnyi, originally from Sarov, Russia, moved to the United States when he was 14. According to The Sudbury Star, Hunter Garlent's 2014 suspension came after referring to an opposition player as a "European" as well.
Trivia
[
]
Compression tights for running are not typically marketed for reducing wind resistance, but for comfort, reducing strain and fatigue, or improving muscle oxygenation.
Trousers, pants, jeans, and similar garments are referred to in the plural for historical reasons, namely that they were originally made in two pieces, one worn on each leg, and then tied or belted at the waist.
Music
[
]
According to Tunefind, the following songs are featured in this episode:
Devices by Tommy and the Commies (start of Day Beers Day)
Buried Alive by Paint Fumes
Brick Wall by Paint Fumes
Salladhor Saan, Smuggler by Milo (Katy is stopped by her pup)
Do It, Try It by M83 (final scene)
Appearances
[
]
Wayne
Katy
Gail
Rosie
Alexander
Reilly
Jonesy
Daryl
Dan
Stewart
Roald
McMurray
Mrs. McMurray
Rosie
Dierks
Bonnie McMurray
Marie-Fred
Locations
[
]
MoDean's
Farm
Gas station
Dierks' house in Michigan
Gallery
[
]
→ See 46 images from Day Beers Day at Images from Day Beers Day.
External links
[
]