Cobra Kai Season 4 - The Loop
Play Sound
Ain't No Reason to Get Excited is the first episode of Season 1 of Letterkenny.
Synopsis
[
]
Daryl and Katy try to help Wayne, while Wayne reconnects with his inner fighter.
Cold Open
[
]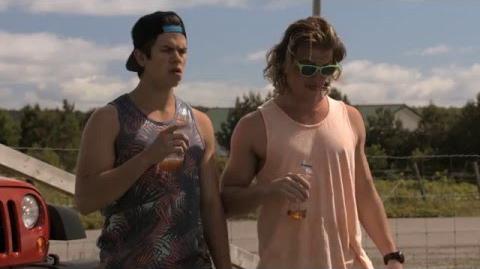 A couple hockey players come up t' the produce stand the other day… — Wayne
Two hockey players, Jonesy and Reilly, drive up to the produce stand at the farm, and drop Katy off. They start a chirp match with the Hicks, mocking Daryl's clothes, and Wayne for his recent breakup. Wayne and Daryl hit back with ease, prompting the hockey players to strip off their shirts and demand a fight. Wayne and Daryl are unimpressed.
You take your shirt off, but leave your sunglasses on? What sort of backwards fuckin' pageantry is that? — Wayne
Wayne and Daryl continue to chirp them mercilessly about their attire, masturbation, and body hair, until Katy comes back out of the house and tells the hockey players to "get outta here," and they drive off.
It's a hard life picking stones and pulling teats but sure as God's got sandals it beats fighting dudes with treasure trails. — Wayne
Plot Summary
[
]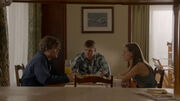 Daryl and Katy confront Wayne about feeling down about Angie leaving him a month prior. Katy's solution is to try and get Wayne on Tinder, while Daryl's is to bring him to the Burning Bush Youth Group, a Christian fellowship his "sweetie," Margaret, is involved with.
The Hicks head over to MoDean's for Thirsty Thursday, to get "get balls deep in a bottle of Gus N' Bru." Gail declines to do a shot with them, saying she is on a health kick, taking a variety of supplements (and 20–25 smokes), but she ends up drinking with them anyway. Wayne gets up to use the washroom and runs into McMurray, who brings up that Angie's new love interest, a dandy city boy, has been hanging around, describing him in great detail. Alexander joins them at the urinals and strikes up a conversation, but McMurray and Wayne hurry out.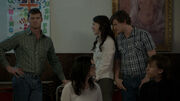 Daryl again invites Wayne to the youth group, and rather than endure more of Gail's flirting, he accepts. While there, Margaret warns Wayne about the fires of hell, and tells Wayne that Tinder was based on Grindr, and what a dick dinger is.
Glen takes the stage and greets all present, with words of praise for God and for his girlfriend, Virginia. He brings "Ginny" up to the stage.
I still remember, like it was yesterday, the day that the Lord gave you to me. And he said, "Glen, this is your blank canvas. It is pale. It is colorless. It is almost cardboard-like. I want you to give it life, to give it color." And so I said to the Lord, "I will give it everything. Everything, except for one thing—vaginal intercourse!" — Glen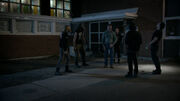 The crowd cheers. Glen then introduces his band, the Salty Treats. As they begin to play, Wayne goes out for a smoke, and looks up Grindr on his phone. The Skids catch him doing and mock him for it—while constantly reassuring Roald, who is gay, that they support him. Wayne retrieves his phone and heads back inside to see Glen playing the didgeridoo. Daryl says Wayne will need to change his attitude or he will miss out on all the girls; Wayne wonders if Daryl means the 12-year olds or the 13-year olds. Daryl points out that the dudes there are all well-groomed, and Wayne realizes that all the other guys at the event are on their phones using Grindr.
They return to MoDean's, where the Skids continue to mock Wayne about Grindr. No love is lost between them and the hockey players, but they join in as well.
I fuckin' hate you too; however, I fuckin' hate him more. And, I just found out he's ambidextrous. — Reilly
This is interrupted when Angie's new love interest arrives. Wayne goes outside, where Katy drives up and they talk. She gives reminds him how he had always defended himself and his friends when younger, and says she misses the old Wayne.
While they are speaking, they see Angie's new love interest picking on Alexander. Wayne accosts him, and Angie's beau makes crude comments about her and about Katy. A fight ensues, which Wayne wins easily.
Welcome to fuckin' Letterkenny. — Wayne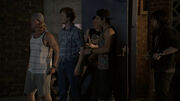 The Skids, hockey players, and other patrons witness this. Wayne approaches them, and they wince.
The next day, the hockey players drive up to the produce stand again, but quickly take their leave after dropping Katy off, telling Wayne to have a good one.
Post-credits Scene
[
]
Wayne, Daryl, and Dan deliver a Letterkenny Problems-style sequence of one-liners.
Quotes
[
]
Reilly: Nice onesie. Does it come in men's?
Wayne: Oh I think you come in men enough for all of us.
Daryl: You take your shirt off, but leave your sunglasses on? What sort of backwards fuckin' pageantry is that? Do you want to fight with those shades or play pokerstars.com?
Katy: We're out of yogurt.
Daryl: Brought some from home.
Katy: Then whyn't you stay there and eat it?
Katy: There's millions of starving kids in the world.
Daryl: Yeah? Name ten.
Katy: Say something like Like, "On a scale of one to America, how free are you right now?"
Katy: That was well brought up. Too bad you weren't.
Daryl: It's a four leaf clover. Make a wish.
Wayne: Wish you weren't so fucking awkward, bud.
McMurray: Seen Angie, with her new dude? What a fuckin' dandy. Yeah. He's got fugazi-diamonds in both ears and leprechaun buckles on his shoes. Running a fuckin' Dippity-Doo convention upstairs for a salad. Driving a '94 Jeep YJ with a wave decal on the side. Enough cologne to offend a Bangkok lady boy.
Reilly: Fuck, Lemony Snicket, what a series of unfortunate events you fuckin' been through, you ugly fuck.
Wayne: You stopped toe-curling in the hot tub 'cause you heard sperm stay alive in there and you've seen Teenage Mutant Ninja Turtles enough times to know how that story ends.
Callbacks and Running Gags
[
]
Introduced
[
]
Go home, Daryl
Daryl loves yogurt
What Squirrelly Dan appreciates about Katy
Dan's second cousins Garrett and Jarrett
Wish you weren't so fucking awkward, bud
Daryl wears his barn clothes everywhere
Menergy is a great name for a spa
Cultural References
[
]
Reilly and Jonesy fistbump to "fourth line for life." A "line" in ice hockey refers to a group of offensive players usually deployed as a group, commonly a center and two wingers. The fourth line was traditionally the least talented but the most aggressive and physical, often including "enforcers" and "pests" (players whose role is to antagonize or fight with the other team).

Reilly and Jonesy's avoidance of cigarettes while indulging in smokeless tobacco reflects an actual issue in ice hockey, where smoking has faded since the 1980s, but snuff and chewing tobacco have increased in popularity, especially among younger players.
Wayne saying he is "no DJ Jazzy Jeff" is a reference to the artist of that name, who collaborated with Will Smith as DJ Jazzy Jeff and the Fresh Prince. It is a play on the name, as Dan mentions that Wayne was "not jazzed."
Cold-fX is an herbal product derived from North American ginseng and sold in Canada as a prophylactic against and treatment for the common cold; its medical claims are contested.
McMurray mocks Angie's new beau for driving a "'94 Jeep YJ with a wave decal"; this is an earlier generation of the Jeep Wranglers Reilly and Jonesy drive (JK), scorned by the Hicks as "Tonka trucks."
Grindr, aimed at gay men, was the first "geosocial" dating app, launched in 2009. Tinder, launched in 2012, is a completely unrelated company and service.
In Pokémon, Bulbasaur evolves into Ivysaur, who evolves into Venusaur. But Charmeleon evolves into Charizard, and Charmander evolves into Charmeleon.
Andrea Thompson played Talia Winters, a human telepath, on Babylon 5. Charles Bukowski was a German-American author of transgressive fiction.
Stewart refers to his basement as Xanadu, a legendary, paradisic locale. The word is a corruption of "Shang-tu," the summer palace of Kublai Khan, as used in the 1816 Samuel Taylor Coleridge poem "Kubla Khan." It was also used as the name of Charles Foster Kane's estate in Orson Welles's 1941 film Citizen Kane. In Sled Shack, Stewart similarly refers to the basement as other fictional paradises, Utopia and Arcadia.
Friday Night Lights was an American television drama about a high school football team in Texas, based on the 2004 film of the same name, in turn based on a book by H. G. Bissinger. Tim Riggins is one of the characters, a rebellious star football player also known to be a heavy drinker and womanizer. One Tree Hill and Gossip Girl were teen dramas broadcast on The CW.
"Lookin' for love over the rainbow" is a reference to the 1939 film The Wizard of Oz, in which Judy Garland sings "Somewhere Over the Rainbow"; Garland was a gay icon later in life, and the rainbow is a symbol of LGBT+ pride.

"Lemony Snicket" is a reference to children's author Lemony Snicket (real name Daniel Handler), whose best known work is A Series of Unfortunate Events, also made into a 2004 film.
"Boulevard of Broken Dreams" is a reference to the song by Green Day from their 2004 album American Idiot.
Troy shouts "This is Sparta!" when he kicks Alexander. This is a reference to a scene in the 2007 film 300 and the 1998 comic series by Frank Miller and Lynn Varley it was based on, and which also became an Internet meme, in which Leonidas, played by Gerard Butler, kicks a Persian messenger into a pit. The hockey players also repeat this line in Super Hard Easter, conflating the Spartans with the Romans from several centuries later that Glen intended for them to play.
Trivia
[
]
SBS (Australia) titles this episode "No Reason to Get Excited"
The opening card for this episode is unique, reading "Letterkenny consists of hicks, skids, hockey players and Christians. These are their problems." In practice, this is the only episode where Margaret, Ginny, or any other members of the church or its youth group are seen. Few other religious traditions or settings are mentioned: Bob the Jehovah's Witness in Dyck's Slip Out, Noah Dyck and his family of Mennonites in several episodes, and Avi Goldstein in Mitzvah.
Reilly and Jonesy's mockery of Wayne over Angie is thrown back at them verbatim in the Season 2 cold open, for A Fuss at the Ag Hall.
Katy tells Wayne "Angie did you a lot of good," aside from getting soft. This contrasts with her vengefulness towards Angie later in the series. It could refer to Angie taming Wayne from his apparently much wilder youth with Dan, a personal history downplayed for Wayne in later episodes.
Katy mentions the Skids egging Daryl on his bicycle in high school, so their identity as such and antagonism with the Hicks dates back to their youth, as also suggested by Stewart's resentment of his cousins in Great Day for Thunder Bay. The egging incident has never since been referenced.
Alexander is mentioned subsequently in Super Soft Birthday (as being Joint Boy's second cousin), and in a story Daryl remembers in Modeans 2, but he does not appear again until Season 8 in Yard Sale Saturday.
Angie's Beau is never named in the episode, but is credited as "Troy Dauhmer"
Music
[
]
Seven songs are featured in the episode, according to Tunefind:
Premadonnas by Kaboom Atomic (the Jeep drives up)
There And Back Again by Indian Wars (at MoDean's)
Dougie Gilmore (Chop! Chop!) by Annakin Slayd (Reilly and Jonesy pick up Katy at the back porch)
Save Me (feat. Katy B) by Keys N Krates (the Skids dance outside)
Worm(S) by Nü Sensae (the hockey players and Skids tease Wayne)
Everyone Looks Like Everyone by The Pack A.D. (Wayne fights Angie's city boy)
Wolf Pack by Pigeon Hole (ending and closing credits)
Appearances
[
]
Margaret (Kelly Lamb)
Ginny

Alexander

(Jeff McEnery)
Troy Dauhmer / Angie's Beau (Spencer Maybee)
Locations
[
]
Gallery
[
]
→ See 56 images from Ain't No Reason to Get Excited at Images from Ain't No Reason to Get Excited.
External links
[
]