Cobra Kai Season 4 - The Loop
Play Sound
A Fuss at the Ag Hall is the first episode of Season 2 of Letterkenny.
Synopsis
[
]
The Hicks attempt to establish order at the Ag Hall while Reilly and Jonesy make the jump to Senior hockey.
Cold Open
[
]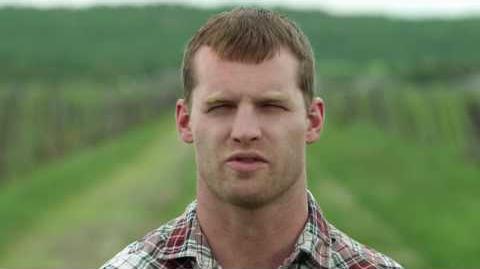 Wayne (with help from Daryl) recounts Tyson's challenge at MoDean's, and his victory in the subsequent scrap, with alphabet aerobics.
Fuckin' fucked your face up from front to Finland in a fairly unfair fashion unfortunately for females… So you got up, gathered your goods, guts and gonads, got after the goofy goon, gave glory a good go.… Secured the scuffle by successfully out-scrapping the skirt. — Wayne
Plot Summary
[
]
The Hicks sit talking by the produce stand. Wayne tells Dan and Daryl about his disastrous date; he wasn't able to wash his truck, nor open the door for her, and he never recovered from the rocky start. Nevertheless, he says the general theme for the next six weeks is "Wayne's looking for love."
Stewart drives up and the Hicks—after checking that Katy is out of earshot—mock his clothing and appearance. They fall silent after she emerges from the house. She easily turns away Stewart's clumsy attempt to kiss her, and gets in the car; he insists that she puts on her seat belt before they drive off.
That kid's a polished turd. — Dan
Immediately afterwards, Jonesy and Reilly drive up, and Wayne and Daryl launch into the identical chirping routine they gave to Wayne at the start of Ain't No Reason to Get Excited: "Just a real ouchie, bro." Without saying a word, they back up and drive off, giving the Hicks the finger. Dan asks Wayne whether Stewart gets points for opening the door for Katy, but Wayne points out that Johnny Cash himself could have stepped out of the car and he'd still ask why it isn't clean.
Dan suggests they go to the Ag Hall for the board meeting. They are reluctant to go because of the way McMurray runs them, made even worse when Mrs. McMurray is there, but Dan says that they should be there for the important decisions. Wayne says that Dan will be asleep within the first five minutes, and bets as many dollars on it.
At the Ag Hall, an hour and 45 minutes into a "very productive" meeting, Dan snores while McMurray labours through agenda item #28 of 39. He and Mrs. McMurray belabour a discussion about the colour of the weather mats. Dan's snoring draws the attention of the room, and they debate whether he is faking it. Mrs. McMurray threaten she will "stuff a cocksuckin' work sock down your skull cave" if he does not stop. McMurray moves on to the important matter of coat hangers in the front hall, lecturing Wayne on the proper parliamentary procedure to have some moved to the back closet. Wayne, exasperated, leaves the table and moves the coat hangers himself.
Would the secretary note that aforementioned coat hangers have such been moved, thanks to a very over-zealous beaver. — McMurray
After the meeting, Jim Dickens, exasperated by the length of the meeting, approaches Wayne and urges him to run for Ag Hall president. Wayne finds the proposal Shakespearean, but agrees to "think on it."
Jonesy and Reilly contemplate their position outside the dressing room on their first day of senior hockey for the Letterkenny Irish. They have been cut from the Letterkenny Shamrocks in their overage year, and broken up with Katy for cheating on them— but at least they will not need to play with Shoresy. They enter the dressing room to find the rest of the team engaged in various leg exercises.
Back at the farm, Wayne has put Stormy in her pen for trying to kill her stud, and aggression is to be punished, as per "dog whisperer" Cesar Millan. This puts the Hicks in the mood for caesars, but MoDean's has burned down, and Letterkenny needs a new bar. Daryl asks why Stormy is trying to kill her studs, to which Wayne replies they are likely saying the wrong things, just like humans. Daryl says he uses lyrics from '90s pop songs as opening lines with girls. Wayne bets $5 that he cannot successfully sell him on the tactic. Dan recognizes all the lyrics and scoffs at the technique, but Wayne hands over $5. Daryl continues as Katy comes out of the house, and she is not pleased.
Are you talking to me, you fuckin' greaser? You don't talk to me like that, you fuckin' pud. I'll beat the shit outta you! — Katy
Stewart and Katy visit the basement, where the other Skids are gathered doing drugs and watching video games. Katy attempts to make conversation with Roald, but is rebuffed.
When Katy leaves, Devon and Roald confront Stewart. He demands they elaborate on their "entanglement," and it is cleaer they are jealous because of the time he has been spending with her, and her influence on his activities and dress. At an impasse in the conversation, Stewart stabs Devon with an EpiPen. Roald stabs Stewart with another EpiPen, and all three take turns removing and stabbing each other. Stewart observes "if any bees come in here, we are so fucked." Devon orders Connor not to open his peanut M&Ms.
Back at the Ag Hall, Jim Dickens moves that Wayne assume the presidency, and auctioneers until he has the eight necessary votes. McMurray is shattered by the act, and can only babble about the right procedure not being followed. He relinquishes the gavel with some bitterness to Wayne, who adjourns the meeting immediately.
In the dressing room, Jonesy and Reilly are worried about first impressions with the other players. They propose wheeling snipes after practice, but this offends the other players, who are married and love their wives. They then propose getting sandos, but they are all gluten-free. For a third attempt, they propose a round of dinkerball, where a player grabs his "dink or his ball" and scrunches it up, and the others have to guess which it is. The players are contemptible of this, and call them schmelts.
Devon and the Skids tell Stewart that he is expelled from the group, and that he is not welcome in the basement. He and Roald draw EpiPens, and Stewart withdraws.
Is not your crew anymore. This is not your life anymore. This is not the weekend. This is not your basement anymore. This is my basement now. — Devon
The Irish play duck-duck-goose with Reilly and Jonesy. When they tag them as "goose," however, they fart in their faces as they get up, then leave to do legs. Reilly asks Jonesy for baby wipes. He does not have any.
Stewart drives up to the produce stand and reports that he is homeless on account of the "uprising." Katy tells him he can stay in the spare bedroom for up to 48 hours, and she takes him in the house. Tyson drives up to ask for a rematch, and Wayne agrees. They shake hands, and Wayne knocks him out with a head butt.
You're fuckin' ten-ply, bud. — Wayne
Quotes
[
]
Wayne: Here's a poem: "Star light, star bright, why the fuck you got earrings on?"
Wayne: See the muscle shirt came today. Muscles coming tomorrow?
You get a tracking number?
Oh, I hope he got a tracking number.
That package is gonna be smaller than the one you're currently sporting.
Dan: That kid's a polished turd.
McMurray: Would a member second my motion?
Mrs. McMurray: I second, baby. I second so hard.
McMurray: Thank you, baby, I knew you'd second the shit right out of it.
Jim Dickens: Wayne, 100% bullshit 'round here. (auctioneering) Got a bidder now, one. Lookin' at two. Two, and now at lookin' at three. Three hundred now, can I get a four? Four there now, sold. Four hundred percent bullshit 'round here.
Stewart: We're going to the Weeknd show.
Devon: It's Tuesday.
Stewart: No, The Weeknd is here.
Devon: In three days, yeah.
Stewart: No, I mean The Weeknd is here today.
Devon: No, it isn't.
Stewart: Yes, he is.
Devon: Who is "he"?
Stewart: The Weeknd.
Devon: Wow! Slightly sexist statement to say Saturday and Sunday are the masculine ones.
Roald: He's a misogynist now, too!
Stewart: No.
Devon: Yes!
Stewart: I mean we are going to see The Weeknd perform.
Devon: She's got you totally brainwashed, man. You don't even know what day it is.
Roald: I was born this way, Stewart.
Mrs. McMurray: Goddamn Dickskin cuttin' into my gin n' tonic time, that's all I know.
Jim Dickens: Dickens.
Mrs. McMurray: 'S what I said, Dickskin.
Stewart: If you asked me for help I would help you.
Wayne: Oh, look, they're comin' land, sea and air now.
Callbacks and Running Gags
[
]
Introduced
[
]
Letterkenny needs some sort of bar
The McMurrays mispronounce Jim Dickens' name
First impression's a lasting one
Stormy tries to kill her studs
She's a beautiful dog
Letterkenny Irish speak in order
Boomtown loves his wife
Recurring
[
]
Cultural References
[
]
Jim Dickens pondering "Why do birds suddenly appear every time I auctioneer?" may be a reference to the opening lyric of the Carpenters song "Close to You"
Reilly and Jonesy are cut from the Shamrocks in their overage year, indicating they have turned 20 since the previous season of letterkenny. Junior B teams are allowed a maximum of three players age 20 or over on their roster, so either they were cut in favor of three more valuable players of the same age, or perhaps for likely given their poor record, all were cut in the hopes of rebuilding the team with younger talent.
Cesar Millan is a dog trainer who became famous from a reality show, The Dog Whisperer, which aired 2004–2012 on the National Geographic Channel, and which featured his philosophy and techniques related to rehabilitation of badly behaving dogs.
Daryl's lines are taken from "Smooth" (1999) by Carlos Santana and Rob Thomas (then of Matchbox 20); "Truly Madly Deeply" (1997) by Savage Garden; "I Swear" (1994) by All-4-One; and finally "I'll Make Love To You" (1994) by Boyz II Men.
Roald's bong name references:

Samwise Ganja - Samwise Gamgee, Frodo Baggins' gardener, best friend, and travel companion in The Lord of the Rings by J.R.R. Tolkien
Paul Tokenfold - Paul Oakenfold, an award-winning trance DJ and record producer
Air Bud - the 1997 sports comedy film Air Bud, a play on "bud" as slang for marijuana. Katy's suggestion for the next one is the title of the sequel film, Air Bud 2: Golden Receiver

When asked what he likes to do, Scholtzy mentions "winning red ribbons." In the United States, the red ribbon is usually awarded to the second place competitor, with the first place winner taking blue, the reverse of practice in Canada, the UK, and Australia.
"Chekhov's gun" refers to a more general principle of writing to remove any superfluous elements. If a gun appears in a play, it must be because it has some purpose in the story; otherwise, it is an "unkept promise" to the audience.
Trivia
[
]
Dan says Gail is staying at a bed and breakfast, or rather a "bed and biscuits."
The location used for the original MoDean's Roadhouse was no longer available when Season 2 went into production, and its absence as a hangout was explained as having burned down.
Devon shouts "taste three mills," but an Epi-Pen holds 0.3mL (0.3g), not 3mL.
This episode is the first in which Connor, one of the Skids who never speaks, is addressed by name.
Tyson is again knocked out by a head-butt, this time with Joint Boy, in the cold open for Letterkenny Spelling Bee.
Music
[
]
According to Tunefind, there are 8 songs featured in this episode:
Don McKellar by The New Values (Wayne and Daryl recount the fight)
Drunkformation by Drunkformer (Stewart drives up)
Luckiest Man Alive by Annakin Slayd (Reilly and Jonesy drive up)
Hawt by Brillz & Ghastly (Stewart and Katy at the basement)
Path of Destruction by Drillfist (the Skids have a Mexican standoff)
8 Seconds by Speed To Kill
gurn wars by Segal (Tyson returns for a rematch)
Shake Shake Shake by White Denim (Wayne knocks out Tyson; closing credits)
Appearances
[
]
Locations
[
]
Gallery
[
]
→ See 68 images from A Fuss at the Ag Hall at Images from A Fuss at the Ag Hall.